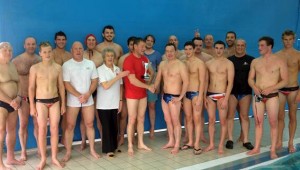 The Devon Water Polo Cup is no longer on show in The Fishmongers Arms in Southgate after Enfield were beaten 6-3 by Barnstaple on Saturday.
A strong squad including captain Rob Threadgold, Richard Waller, Rob Lucas and Dax Cain finished second in the tournament, which just wasn't enough to retain the coveted trophy.
Enfield faced Barnstaple in their opening game and despite pushing the Devon club close, Enfield failed to find a way past the hosts.
"It's disappointing to have lost," said coach Martin Waller, "but the tournament was a huge success and to finish second, above the likes of Aston, is a huge achievement."
"We will return again next year and hopefully we can get the trophy back."
Enfield's Alex Waller was one of the star performers on the day and it was also great to see 84-year-old veteran Roy Naisbitt make the long journey down to the south west.
Next up for the senior squad is a tour of Macedonia and the team are looking forward to flying out on Thursday 12 June.