Enfield Water Polo Club celebrated winning two trophies – 4th place and The Fair Play – at the Bishops Stortford Tournament on Saturday despite winning only two of their five games.
The early (10.30am) start appeared to catch Enfield napping as they slumped to a 3-1 loss to Colchester in their opening match.
A solitary goal from Alex Waller wasn't enough to mask some below par passing and shooting as the Essex-based team eased to a 3-1 victory.
The defeat to Colchester seemed to be the wake-up call Enfield needed, as a powerful performance against Cambridge University in their next game saw the north Londoners respond with a 3-1 win of their own.
Rob Lucas and Andy Rolle (2) were on target as Enfield registered their first three points of the day.
The Army were up next and again Lucas and Rolle provided the firepower, but it wasn't enough to prevent Enfield falling to a disappointing 4-3 defeat.
First team captain Rob Threadgold was Enfield's other goalscorer after firing in what was potentially the goal of the tournament – a spectacular first-time back shot which sailed into the top corner following an excellent diagonal drive.
After two defeats, top spot was out of reach for Enfield, and securing fourth was put in jeopardy after a frustrating 3-2 loss to Ipswich.
Alex Waller and Rolle levelled the scores at 2-2, but when the Suffolk side edged in front, they killed the game with a masterful display of how to keep possession in your own half.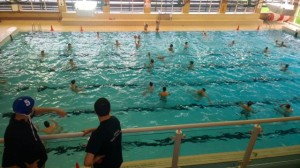 Needing a convincing win against Old Stortfordians in their final game, Enfield finally rose to the challenge and demolished the hosts with a thoroughly deserved 5-1 victory.
Threadgold, Lucas, Rolle (2) and A Waller scored the goals which sealed 4th spot and ensured Enfield wouldn't travel home empty handed.
With the least number of majors committed, Enfield were also awarded The Fair Play Trophy, which will be on display at The Fishmongers Arms in Southgate from Wednesday.
The tournament was a huge success and many thanks to Old Stortfordians for inviting Enfield and for laying on such a great event.
Special thanks also to Martin Waller for travelling with the team and refereeing on behalf of the club.
Enfield's team in full was: Andy Boorman, Paul Shafee, Adrian Lo, John Jackson, Alex Waller, Richard Waller, Rob Lucas, Rob Threadgold, Andy Rolle, Martin Ilievski.
The results in full were:
Army 3-3 Cambridge University
Colchester 3-1 Enfield
Ipswich 5-0 Old Stortfordians
Cambridge University 1-3 Enfield
Army 1-4 Colchester
Cambridge University 2-0 Ipswich
Colchester 9-0 Old Stortfordians
Army 4-3 Enfield
Cambridge University 5-0 Old Stortfordians
Colchester 5-0 Ipswich
Army 6-2 Old Stortfordians
Enfield 2-3 Ipswich
Cambridge University 1-1 Colchester
Army 4-2 Ipswich
Enfield 5-2 Old Stortfordians
Final placings:
| | | | | | | | | |
| --- | --- | --- | --- | --- | --- | --- | --- | --- |
| Table | | | | | | | | |
| Team | P | W | L | D | F | A | GD | Pts |
| Colchester | 5 | 4 | 0 | 1 | 22 | 3 | 19 | 13 |
| Army | 5 | 3 | 1 | 1 | 18 | 14 | 4 | 10 |
| Cambridge Uni | 5 | 2 | 1 | 2 | 12 | 7 | 5 | 8 |
| Enfield | 5 | 2 | 3 | 0 | 14 | 13 | 1 | 6 |
| Ipswich | 5 | 2 | 3 | 0 | 10 | 13 | -3 | 6 |
| OSSC | 5 | 0 | 5 | 0 | 4 | 30 | -26 | 0 |