Enfield's three-game tour of Macedonia has been hailed a spectacular success and despite losing the series against VK Beta 2-1, the team are already planning a return visit next summer.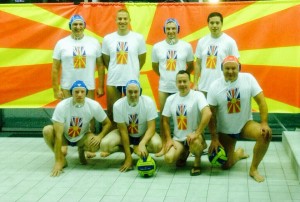 The squad arrived in Skopje last Thursday and after a sightseeing trip around the Balkan capital, the players lined up against a strong local side that included former international star Saso Spiroski.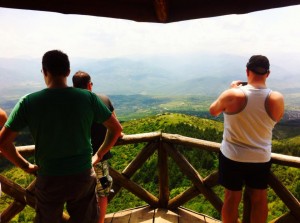 Goals from club captain Rob Threadgold, Andy Rolle, Tony Matthews and Martin Waller were enough to give the hosts a brief scare, but a dominant VK Beta gradually pulled away and went on to win the opening contest 19-12.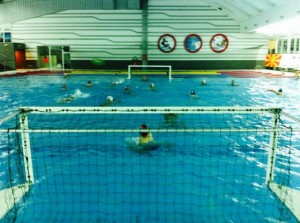 Game two the following night was a more even affair and man of the match Andy Poore fired in four goals from deep to swing the tie in Enfield's favour.
Some fine saves from Andy Boorman and reserve keeper Adrian Lo kept VK Beta at bay and there were huge celebrations at the final whistle as Enfield levelled the series with a surprise 21-18 victory.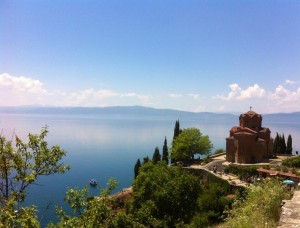 Saturday was a rest day and the Enfield players travelled south in the team bus to the stunning resort town of Ohrid where a training session was held in one of the biggest and most picturesque lakes in Europe.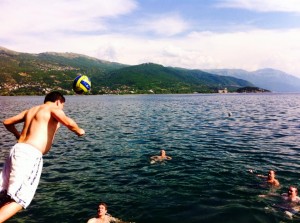 On Sunday, back in Skopje, it was clear the hosts were out for revenge and meant business. International referee Andrej Gjorgjievski was the appointed match official and VK made sure their strongest seven were in the water from the start.
Martin Ilievski was in fine form in defence and attack, but Enfield struggled to find the rhythm they showed in the second encounter.
Local hero Spiroski soon turned on the style with six superb goals from distance, and VK's giant 2m star 'Jumbo' (below) proved more than a handful as the hosts ran out comfortable 21-16 winners.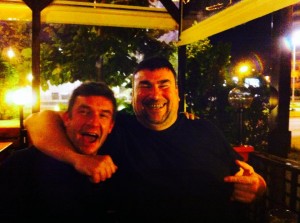 A fabulous three-course gala and presentation dinner was then held at a traditional Macedonian restaurant in Skopje before the Enfield team flew home to London in the early hours of Monday.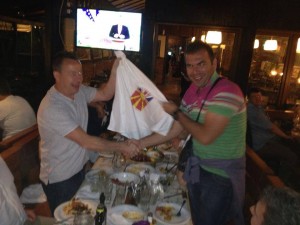 "We couldn't have been made to feel more welcome in Skopje and we'd like to thank all of the VK Beta players," said Enfield's Andy Rolle. "Playing in Lake Ohrid was also special and we've had an incredible four days. It's a shame to have lost the series 2-1, but hopefully we can get the better of them next time."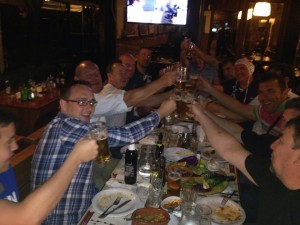 Special thanks has to go to Enfield's Skopje-born Martin Ilievski for organising the tour and to our Man of the Tournament – Martin Waller. Well done, guys!