As of September 2021, Enfield Water Polo Club has resumed full training and have started playing full matches in the London Water Polo League's Hybrid Divisions.
All forthcoming Enfield fixtures can be found here > Fixtures/Results
Training has also resumed on Monday nights at QE Boys School, whenever matches are not being played, 8.40pm
Wednesday sessions at Southgate Leisure Centre – 8-10pm – have also fully resumed.
The training sessions have been great so far and lots of improvement is being seen throughout the squads – 1sts and 2nds.
Please speak to coaches Aloka Prelis or Martin Waller if you'd like to be considered for any of our teams.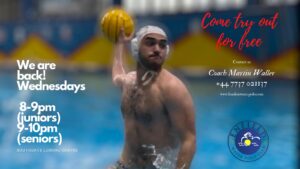 If you'd like to join us, please click here