Enfield club captain Rob Threadgold is in a confident mood ahead of the team flying out to Skopje on Thursday for their five-game tour of Macedonia.
"It's going to be a great few days and we can't wait to arrive and get playing," said Rob. "This is fantastic opportunity for the team to improve their game in the home of water polo – eastern Europe."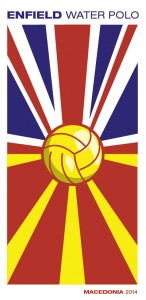 A final training session will take place on Wednesday evening at Southgate Leisure Centre before the travelling squad assemble at Luton Airport at 6.30am on Thursday.
"It's an early start, but we'll be ready," added Rob. "We've won three of our last four games in the London Water Polo League and we've got a strong team heading out to Macedonia. Confidence is high and we're looking forward to it."
The Enfield team in full is Martin Ilievski, Rob Threadgold, Andy Boorman, Martin Waller, Tony Matthews, Adrian Lo, Andy Rolle, Dax Cain and Andy Poore.
More details of the tour can be found here: Itinerary.