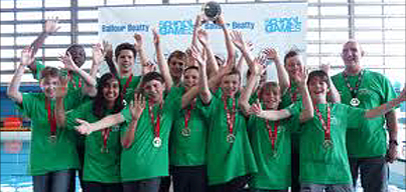 Enfield were crowned 2012 London Youth Games water polo champions after a sensational day of water polo at Crystal Palace on Saturday 16 June.
After beating off competition from eight London boroughs, Enfield lifted the title after a 6-4 extra-time victory against Southwark in the final.
Enfield coach Martin Waller said, "I am very proud of the team's efforts today. Quite a bit of preparation went into today as some of the kids have only been playing for the past few months.
"The majority of the team have been playing at a good level for the past 4-5 years so everyone has done really well. The kids did themselves proud to step up to the mark.
"I didn't expect to win as I know Southwark are a really good side and hard competition, they were great opponents and also great losers as they came up and congratulated us – a very nice side.
"We will come back next year and hopefully defend it."