Enfield 2nds battled hard on Wednesday night at Southgate, but were beaten 10-5 (1-3, 1-2, 2-2, 1-3) by Beckenham 2nds in their latest London Water Polo Winter League fixture.
Beckenham, who were only able to field a bare seven, started brightly and raced into a 2-0 lead. Alex Waller pulled one back for the hosts before Beckenham found the net again to make it 3-1 at the end of the first.
Richard Waller finished off a nice move at the start of the second, but Enfield were unable to find an equaliser as the visitors scored two more to give them a 5-2 lead at the half.
In the third, Enfield threw everything into attack, with Costas Chamalidis and Charlie Briers (who also missed a penalty, see below) both hitting the target, but Beckenham's Chris Wright continued to prove a handful as he converted his third and fourth goal of the night to make it 7-4.
Nikos Chamalidis was the sole scorer for Enfield in the final quarter, but three further goals for Beckenham sealed a 10-5 win for the south-east Londoners.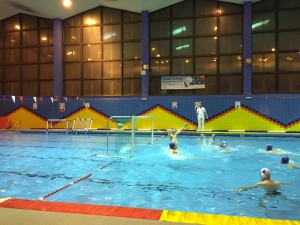 Enfield 2nds team in full:  Adrian Lo, Costas Chamalidis, Sina Dehnadi, Chris Dunn, Charlie Briers, John Jackson, Simon Smith, Stefano Cortellini, Alex Waller, Nikos Chamalidis, Frazer Briers, Martin Ilievski and Richard Waller.