Enfield's Under-18s have secured the London Water Polo Under-18 Division Two title after winning all four of their games.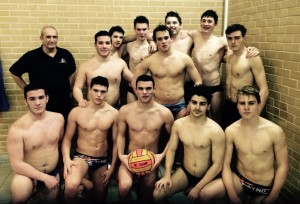 Competing against strong Chelmsford and Sutton & Cheam sides, Enfield were confirmed as champions after beating Sutton & Cheam 15-8 in their final match.
On their way to victory the team scored an outstanding 60 goals at an average of 15 per game.
The young side, coached by Martin Waller, included a mix of Enfield and London Penguin juniors, who will now play in Division One next season.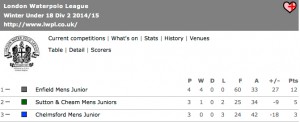 The results in full were:
• Enfield 23-10 Chelmsford
• Sutton & Cheam 8-12 Enfield
• Chelmsford 7-10 Enfield
• Enfield 15-8 Sutton & Cheam
Well done to all involved, including – Richard Waller, Alex Waller, Charlie Briers, Frazer Briers, Sina Dehnadi, Nikos Chamalidis, Costas Chamalidis, Adam Demeter and Emil Dautovic (all from Enfield) and Alex Hammond, Nicholas Birch, Samuel Roberts, Dan Culye and Max Jensen (all from Penguin).