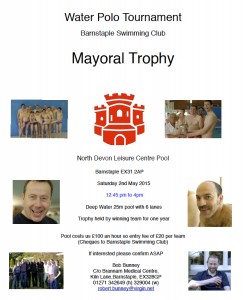 Enfield Water Polo Club have been invited back to Devon to compete in the prestigious Mayoral Trophy Tournament.
This year's event will be held on Saturday, 2 May (12.45pm start) at the North Devon Leisure Centre pool in Barnstaple.
Players who are interested in some sun, sea, surf and water polo should contact Rob Threadgold as soon as possible – either on the poolside or via email (rob.t@enfieldwaterpolo.co.uk).
This will be the fourth time Enfield have enjoyed a visit to Devon and the club will be hoping to go one better than they did last season when they finished runners-up.